Send Inquiry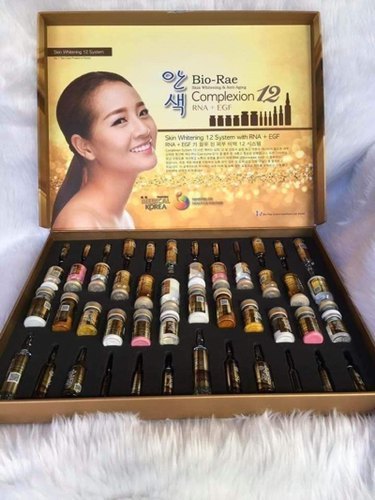 Price And Quantity
1 Box

5000.00 - 15000.00 INR/Unit

5000 INR/Unit
Product Description
Bio Rae Complexion 12 Skin Whitening InjectionÂ
Complexion 12 Skin Whitening System is an upgraded version of Complexion 8 that is already a very famous brand with guaranteed product.Most of the Indian and even celebrities have good comments with this Bio-Rae products and now even BETTER with Complexion 12.
Complexion 12 Skin Whitening System can help you to solve and prevent most of all your skin problems quickly & efficiently.Complexion 12 Skin Whitening System useful as skin whitening , skin smoothing ,anti- aging , acne prevention , firming skin , pigmentation prevention and many more of other benefits of all. It will help to enhance the body's immune system with its Ginkgo Biloba Extract and stimulate the body's reprocess systems with Embryo Stem Cell Extract for full rejuvenate skin effectively. Complexion 10 also has a little amount of Selenium that plays a key role to speed up your Metabolism for faster scar recovery and better healthy skin.
Complexion 12 Skin Whitening System is all you need to have a complete flawless and whiter fair skin. A smoother, clearer, flawless,younger, and whiter skin within, from inside-out. It contain complete whitening ingredient that provide you the FASTEST whitening effect.
Now, a fairer and whiter, pimple and acne free complexion can be yours!!!
Get these GREAT products now for your benefit of beauty and fairer skin! You can see and feel the difference for 1 set treatment of Complexion 12.
Whiten Skin and Lighten Scar Smooth Skin, Brighten and provide nutrients for the skin Enhance the Elasticity Of Skin, Lighten Pigmentation Resulted From Exposed Sunlight, Suppresses the formation of acne blemish pimples, Stimulate Collagen Formation Anti Black Spot Pigmentation Freckles Firm smooth and soften skin, Skin Renewal Improve Fine Lines Inhibit Production Of Melanin (Brown Pigment), Moisture and hydrate skin Minimize pores and improves skin complexion, Anti-Aging undercover twitch due to aging Improves Skin Complexion Antioxidants
Made in Origin Country: Korea
Recommended Dosage:
Intravenous IV Infusion (Drip) Once a week.
For better result contact your Doctor
Not Suitable For:
- Breast feeder.
- Allergy to vitamin (any kind).
- Pregnant woman
- Patient with cardiovascular problem
** The result depends on individual metabolism

Glutathione - 50000 mg 15 ml Vials 4 Sessions
Epidermal Growth Factor EGF with RNA - 1500 mg 15 ml Vials 4 Sessions
Vitamin B Complex - 1250 mg 7 ml Vials 4 Sessions
Amino Acids DNA Complex -1250 mg 7 ml Vials 4 Sessions
Celergen Stem Cell Extract - 50000 I.U 7 ml Vials 4 Sessions
Coenzyme Q10 - 1250 mg 7 ml Vials 4 Sessions
Ascorbic Acid - 5000 mg 10 ml Ampoules 4 Sessions
Apha Lipoic Acids (ALA) 250 mg 5 ml Ampoules 4 Sessions
Tranexamic Acids - 500 mg 5 ml Ampoules 4 Sessions
Natural Collagen Extract - 0.75 mcg 2 ml Ampoules 4 Sessions
Selenium - 0.35 mcg 2 ml Ampoules 4 Sessions
Cyanocobalamin Vitamin B12 - 2000 mcg 2 ml Ampoules 4 Sessions
Keep at room temp & avoid from direct sunlight
BIO RAE COMPLEXION 12 GLUTATHIONE INJECTIONS
BIO RAE COMPLEXION 12 SKIN WHITENING INJECTIONS
Enter Buying Requirement Details
Other Products in 'Glutathione Injections' category